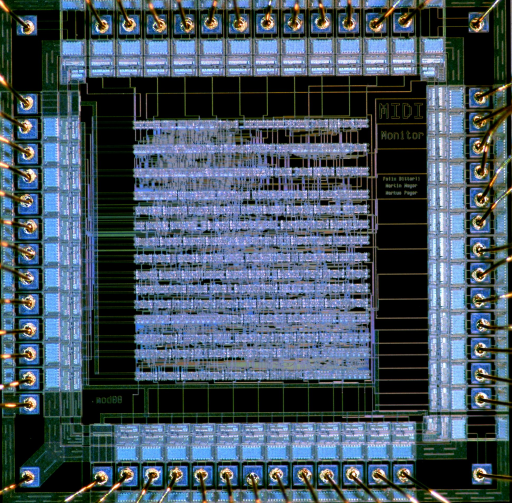 Additional pictures below, click to see larger versions




by
---
Main Details
| | |
| --- | --- |
| Application | Audio |
| Technology | 1500 |
| Manufacturer | VLSI Tech |
| Type | Semester Thesis |
| Package | DIP64 |
| Dimensions | 3170μm x 3180μm |
| Gates | 300 |
| Voltage | 5 V |
| Clock | 4 MHz |
Description
The MIDI Monitor Chip is used to observe and manipulate data on the MIDI interface. Data to the chip will be serialized/parallelized externally. The chip can:

Show the channel number
Channel specific commands of teh MIDI interface are extracted and the channel number is displayed.
Filtering channels
An input interface allows teh selection of channels that will be filtered out from teh MIDI data stream.
Key display
The sound key encoded in the MIDI channel will be displayed.
Related Publication
No related publications yet