MIDI_Master (1992)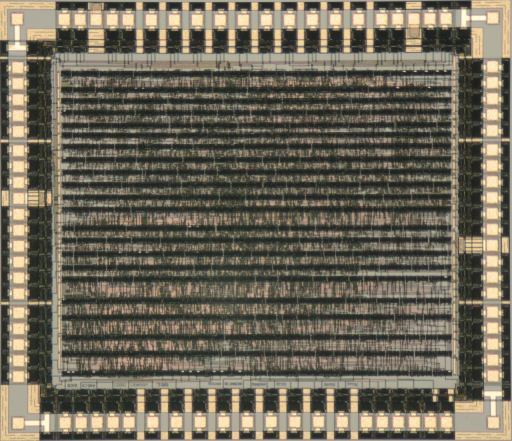 by
---
Main Details
| | |
| --- | --- |
| Application | Audio |
| Technology | 1500 |
| Manufacturer | VLSI Tech |
| Type | Semester Thesis |
| Package | PGA84 |
| Dimensions | 3300μm x 4100μm |
| Gates | 5 kGE |
| Voltage | 5 V |
| Power | 43 mW (1 MHz, 5V) |
| Clock | 37 MHz |
Description
The MIDI-Master is a device especially designed for the needs of MIDI-patchbays and mergers. It supports a freely configurable eight input to eight output switchmatrix as as a two input to one output merge block.

Full interfacing is provided for CPU control. Fast timing allows interfacing to most microprocessor types, therefore making the device extraordinarily versatile.

Many conventional devices, such as Serial Communication interfaces and data switches can be replaced by the MIDI-Master. The device can be programmed for various needs with five eight-bit registers. Error signalling and acknowledge can be handled by interrupt, polling or a simple handshake protocol.
Related Publication
No related publications yet