Xorrelator (1993)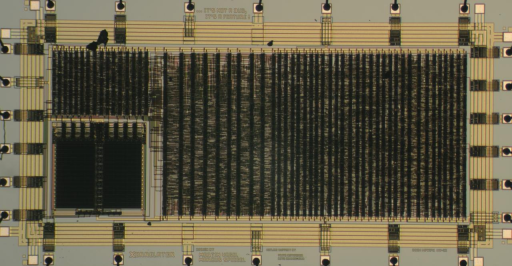 by
---
Main Details
| | |
| --- | --- |
| Application | Industrial |
| Technology | 1200 |
| Manufacturer | VLSI Tech |
| Type | Semester Thesis |
| Package | DIP24 |
| Dimensions | 3200μm x 6400μm |
| Gates | 8 kGE |
| Voltage | 5 V |
| Power | 100 mW(16 MHz, 5V) |
| Clock | 16 MHz |
Description
Modern digital levelling meters use cross correlation techniques to improve the speed and accuracy of the measurements. The correlation is performed in two steps; a binary correlation is used for the coarse position matching, and a normalized correlation with multi-bit accuracy for the fine tuning.

The gate array solution currently used fo rthe levelling meters of Leica is too slow for their future products, since it implements a fully serial algorithm. A commercially available parallel implementation exceeds the allowed power consumption by far. The purpose of this work was therefore to develop and evaluate differemt architectures for a VLSI implementation, which met both the speed as well as the power requirements.

Using a novel parallel/serial algorithm and an on chip cache, a speed-up by a factor 5 has been reached, while reducing the power consumption at the same time by a factor of 6. Eight correlations are calculated in parallel. The ASIC has a built-in 8-bit microporcessor interface, which allows to load the measurement data and to fetch the results.

The chip has been fabricated and tested sucessfully using partial scan-path and block isolation techniques.
Related Publication
No related publications yet