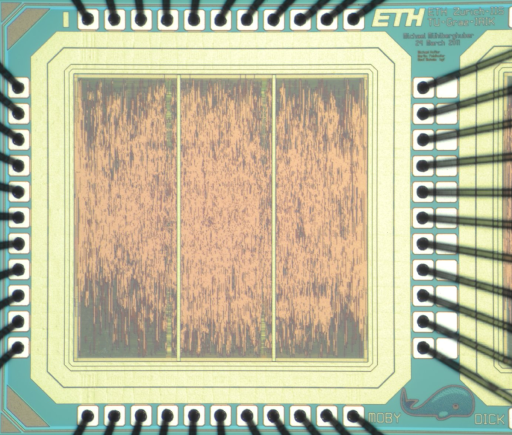 Additional pictures below, click to see larger versions



by
---
Main Details
| | |
| --- | --- |
| Application | Cryptography |
| Technology | 150 |
| Manufacturer | Lfoundry |
| Type | Master Thesis |
| Package | QFN56 |
| Dimensions | 1543.78μm x 1543.78μm |
| Gates | 100 kGE |
| Voltage | 1.8 V |
| Power | 30 mW |
| Clock | 83.3 MHz |
Description
During the last years Elliptic Curve Cryptography (ECC) becomes more and more important, because in comparison to other cryptography schemes (e.g. RSA or ElGamal) it requires a much shorter key length to ensure the same level of security. The present chip enables an entity to calculate both, signature generation and signature verification, using the Elliptic Curve Digital Signature Algorithm (ECDSA) and hence contains all prerequisites for a Mutual Authentication process.

Elliptic curve arithmetic is based on the standard B-163 by the National Institute for Standards and Technology (NIST). The prime field arithmetic, required for the final ECDSA protocol level operations, has been implemented using a redundant binary representation. The signature generation process on the one hand requires ~45kCycles and has a constant run time to prevent it from side channel attacks. The signature verification process on the other hand takes ~200kCycles depending on the provided signature.

This work was a collaboration with the Institute for Applied Information Processing and Communications (IAIK) from the Technical University of Graz (TU Graz).

There is a second design called Dick that complements this chip.
Related Publication
No related publications yet