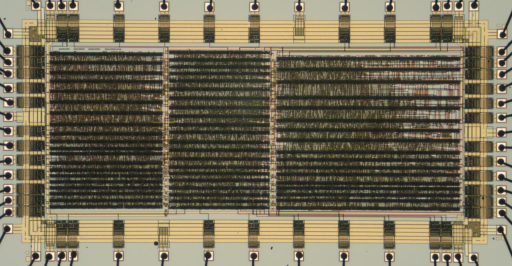 Additional pictures below, click to see larger versions



by
---
Main Details
| | |
| --- | --- |
| Application | Industrial |
| Technology | 1200 |
| Manufacturer | VLSI Tech |
| Type | Semester Thesis |
| Package | PGA84 |
| Dimensions | 6200μm x 3200μm |
| Gates | 8 kGE |
| Voltage | 5 V |
| Clock | 16 MHz |
Description
LLC (Localtalk Link access Controller) ASIC was developed for the needs of VPP - Versatile Printing and Plotting group of the ETH computer center. LLC implements tha Localtalk Link Access Protocol layer of an Apple Talk implementation for IBM PC compatible personal computers:

Packet collisions are detected and packets are retransmitted.
If link is bust, packets are deferred for a load dependent backoff intervall.
Desired packets are received and queued.

Outgoing and incoming packets are buffered in an external 256K DRAM, with host configurable buffer sizes. LLC may be configured to listen to any combination of network addresses, making it suitable for traffic analysis on a network.
Related Publication
No related publications yet