Altitude (2003)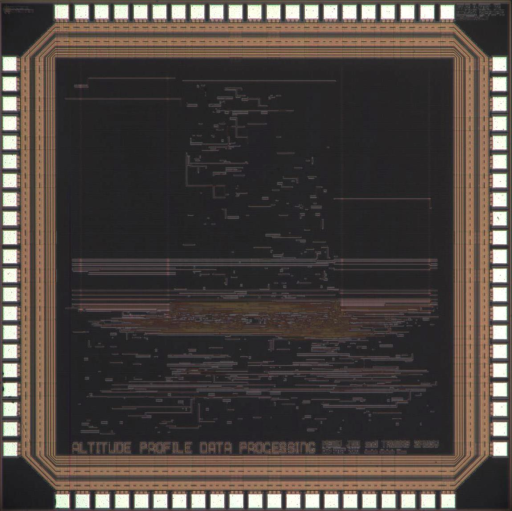 by
---
Main Details
| | |
| --- | --- |
| Application | Fun |
| Technology | 250 |
| Manufacturer | UMC |
| Type | Semester Thesis |
| Package | LCC84 |
| Dimensions | 2500μm x 2500μm |
| Gates | 50 kGE |
| Voltage | 2.5 V |
| Power | 0.15 mW, 1.25V 32kHz |
Description
In this term project the two students proposed to realize an ASIC which stores the altitude profile during a bicycle tour. The challenge was to design such a system which does not require external memory. Due to the available silicon area for student projects, on-chip memory is limited. Intelligent use of it is required in order to optimally support tours of different lengths.

The realized chip acquires distance pulses, digital data from an air pressure sensor, temperature, and time. It compresses this information and stores it on-chip. With larger covered distance the information gets progressively stronger compressed in order to provide capacity for any length of tour up to more than 13 hours (at the cost of resolution). A user interface provides access for calibration, initialization, correct treatment of breaks, and data download to a personal computer via RS232 serial interface. Altitude and speed profiles can then be displayed on the PC.

The chip fabricated in UMC 0.25?m CMOS technology requires 2.45x2.45mm2 of silicon area. Around 50% of the core of 2.45mm2 are covered by the data storage RAMs with a capacity of 4.4Kbits. At 32,768Hz operating frequency with 1.25Volts, supply current is less than 120?A. The silicon has been verified on automatic test equipment for correct functionality and through its full-scan path with a stuck-at fault coverage of 97%.
Related Publication
No related publications yet