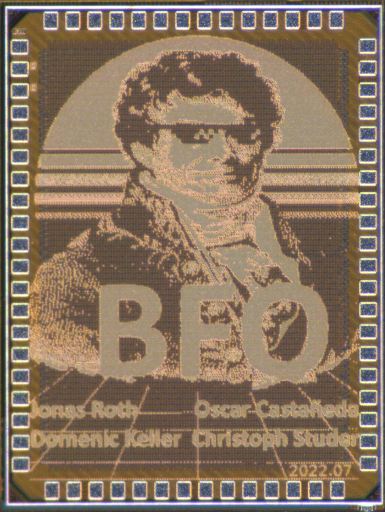 Additional pictures below, click to see larger versions



by
---
Main Details
| | |
| --- | --- |
| Application | Audio |
| Technology | 65 |
| Manufacturer | TSMC |
| Type | Research |
| Package | QFN40 |
| Dimensions | 1500μm x 2000μm |
| Gates | 2 MGE |
| Voltage | 1.2 V |
| Power | 115 mW @100 MHz |
| Clock | 300 MHz |
Description
BFO stands for Big Fourier Oscillator. The ASIC implements eight alias-free oscillators for digital music synthesis. The eight oscillators are able to generate
classical analog synthesizer waveforms (such as sawtooth, square, sine, etc.),
wavetable sounds, and
additive synthesis waveforms.
The chip is configured using an SPI interface and contains an I2S output and two pulse-density modulation outputs. The fabricated chip will be integrated in a hybrid digital-analog synthesizer designed by the Integrated Information Processing (IIP) group. The BFO logo is a modern interpretation of Jean-Baptiste Joseph Fourier.
Related Publication
No related publications yet