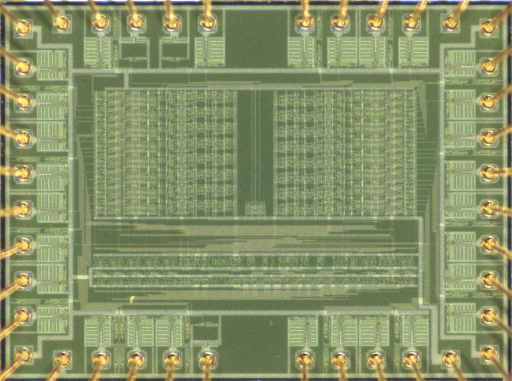 Additional pictures below, click to see larger versions




by
---
Main Details
| | |
| --- | --- |
| Application | Processor |
| Technology | 3000 |
| Manufacturer | Faselec |
| Type | Semester Thesis |
| Package | DIP40 |
| Dimensions | 3200μm x 2400μm |
| Gates | 800 |
| Voltage | 5 V |
| Clock | 4 MHz |
Description
Toy/2 is a simple 16-bit microcontroller, based on the Toy processor described by Phil Koopman in Byte 1987. The original design has been improved by:

A simple pipelining is introduced, the instruction is executed while the next instruction is being fetched.
The program counter is incremented using the main ALU
The instruction set was enhanced
Indirect jump instructions support more than 4K address space.

Toy/2 does not have any subroutine calls, a stack or support for interrupts. one other problem is that instructions occupy too much space (i.e. jump instruction requires 4 Bytes).

The cute logos on the drawing do not seem to be on the physical chip.
Related Publication
No related publications yet