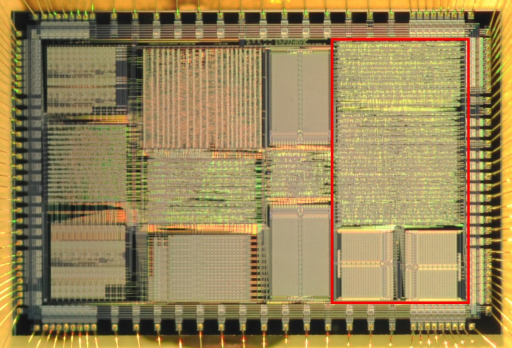 by
---
Main Details
| | |
| --- | --- |
| Application | Audio |
| Technology | 1200 |
| Manufacturer | VLSI Tech |
| Type | Semester Thesis |
| Package | DIP40 |
| Dimensions | 3200μm x 3200μm |
| Gates | 9 kGE |
| Voltage | 5 V |
| Power | 600 mW(40 MHz, 5V) |
| Clock | 20/40 MHz |
Description
The Freq chip (or functional block) determines the frequency relationship between two signals with an accuracy of 16bit. In additon, the relative phase of the two signals is determiend at an accuracy of 9 bits. It was designed to complement the Sarco chip that was manufactured earlier.

The periods of both signals are measured wuth a counter clocked at 40 MHz, and then averaged using a circuit clocked at 20 MHz. The application area is audio signals, and both signals are within a frequency range of 25 to 60 kHz.

The chip photo shows a rerun of the Sarco chip with the part of the FREQ highlighted.
Related Publication
No related publications yet