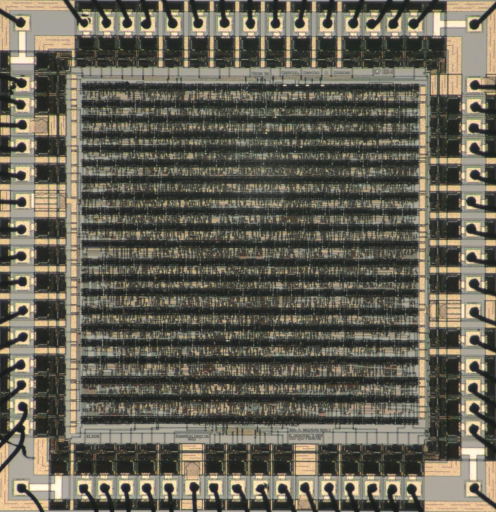 Additional pictures below, click to see larger versions



by
---
Main Details
| | |
| --- | --- |
| Application | Graphics |
| Technology | 1500 |
| Manufacturer | VLSI Tech |
| Type | Semester Thesis |
| Package | DIP40 |
| Dimensions | 3200μm x 3200μm |
| Gates | 1400 |
| Voltage | 5 V |
| Clock | 29.5 MHz |
Description
This is a new approach to the Meteo chip form an earlier semester. In this work, the problems with the interpolation and standard Video timing have been alleviated.

This is an interesting project. It seems that first A. Bionda/M.S. Veni had started working on a project in sommer semester of 1992. It is not very clear how much of this work went into the work of C. Fluehler and P. Pyser.

It also seems that fabrication was changed from 1.2um to 1.5um at a later stage. Strangely enough, there seems to be two different versions of the same chip. It could be that it was manufactured once with 1.2um and once with 1.5um.
Related Publication
No related publications yet