Klimabus (1993)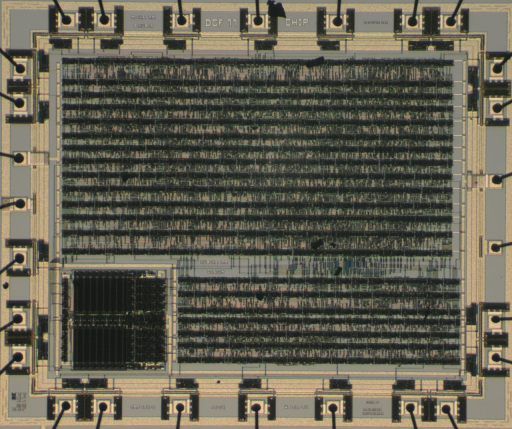 Additional pictures below, click to see larger versions



by
---
Main Details
| | |
| --- | --- |
| Application | Industrial |
| Technology | 1500 |
| Manufacturer | VLSI Tech |
| Type | Semester Thesis |
| Package | DIP28 |
| Dimensions | 4200μm x 3750μm |
| Gates | 4 kGE |
| Voltage | 5 V |
| Clock | 2.4576 MHz |
Description
For any application requiring precise time or high stability it is convenient to decode long wave radio signals transmitted by stations connected to an atomic clock. The best known time normal, DCF-77, located near Frankfurt, is transmitting a minute coded time signal on a 77.5 kHz carrier.

We developed an ASIC which is able to decode rge DCF-77 time signal. Time, date and other information are stored ina n on-chip memory which can be read through a RS 232 interface. If the radio signal can be received without interference time and date are updated every hour and synchronized with the transmitted legal time.

As additional features, seven alarm registers and a timer have been implemented. They can all be set via a serial interface to trigger an interrupt at any time and any day of the week. An alarm can be enabled every day, on certain days of the week, at work days or on weekends only.
Related Publication
No related publications yet