HLS4000 (1994)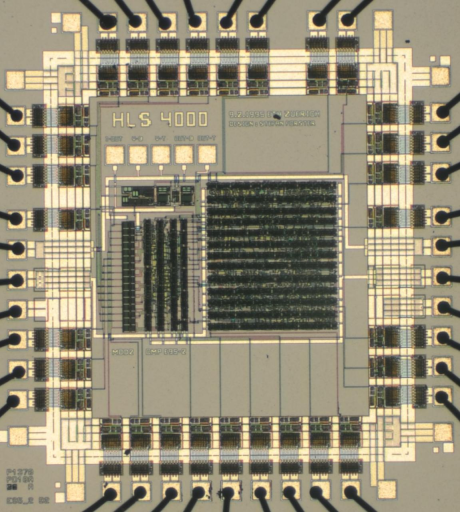 by
---
Main Details
| | |
| --- | --- |
| Application | Industrial |
| Technology | 1200 |
| Manufacturer | VLSI Tech |
| Type | Semester Thesis |
| Package | DIP40 |
| Dimensions | 2700μm x 2900μm |
| Gates | 1200 |
| Voltage | 5 V |
| Clock | 3.6 MHz |
Description
This chip is able to determine the capacitance of a fill level sensor. It can determine a capacitance value between 7pF and 160pF with an accuracy of 3.5fF, a resolution of 16bits. The chip has 16 analog inputs that it can measure. A 4-bit select signal is used to select the input source. One measurement is performed in less than 15 microseconds.

The Analog to digital conversion is based on charging and discharging the connected condensator using constant current sources. The time for this operation is determined by the digital circuit.

Part of this design is fullcustom analog design. The chip also has 5 probe pads to test this analog part.
Related Publication
No related publications yet