Vivosoc2.001 (2016)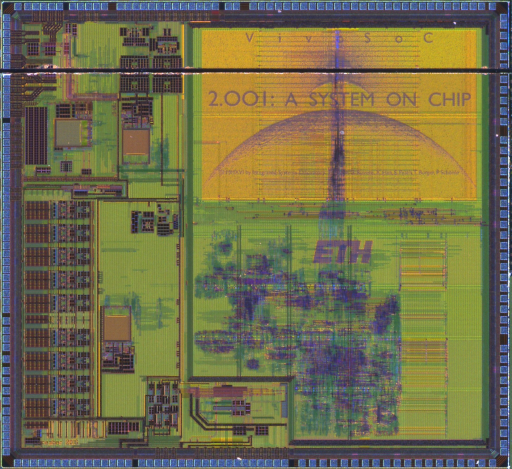 Additional pictures below, click to see larger versions




by
---
Main Details
| | |
| --- | --- |
| Application | Biomedical |
| Technology | 130 |
| Manufacturer | SMIC |
| Type | Research |
| Package | BGA169 |
| Dimensions | 4368μm x 4768μm |
| Gates | 800 kGE |
| Voltage | 1.2 V-0.6V |
| Power | 20 mW (@50MHz, 1.2V) |
| Clock | 64 MHz |
Description
The VivoSoC 2.001 is an incremental tape-out of VivoSoC platform for biomedical signal acquisition. This chip is feature rich and designed to be potentially employed in different portable applications, e.g.: mass-market consumer fitness tracker, medical-grade teleheath point-of-care, implantable devices for chronic disease monitoring and management.

To fit the tight energy budgets of portable devices, the operating point of each SoC block can be fine tuned to trade-off unnecessary precision with power.

Main chip features:

Quad-core RISC processor of the PULP family equipped with SPIs, UART, GPIOs, JTAG and I2C digital interfaces and a L2 memory of 128kB.
PULP cluster and peripherals embedded in two independent voltage and clock domain regions to allow voltage and frequency scaling.
9-channels 12kHz-66dB analog-front-end for time-multiplexed ExG recording (with lead-off detection).
4-channels Transimpedance Medical Amplifier and LEDs driver for photoplethysmogram (PPG).
2-channels Bio-Impedance analog-front-end.
3 fully flexible SAR-ADC for digitizing biomedical signals (ExG, PPG, bio-impedance).
6-channels nerve blocking and stimulation circuit.
General purpose algorithmic ADC for auxiliary sensor recordings.
On-chip LDOs to provide a clean supply for the analog circuits.
On-chip clock-generator and biasing.

The name VivoSoC is based on the Italian word "Vivo" that can be translated as "Alive". The logo continues the trend of Stanley Kubrick's 2001: A Space Odyssey inspired logos on chips where Philipp Schoenle has worked on. The chip was manufactured on an MPW run with several smaller dies. As a result we had only very few intact VivoSoC2.001 dies available and all of them were packaged. The photos show a die that was diced through so that other dies can be taken out.
Related Publication