Davas100 (1994)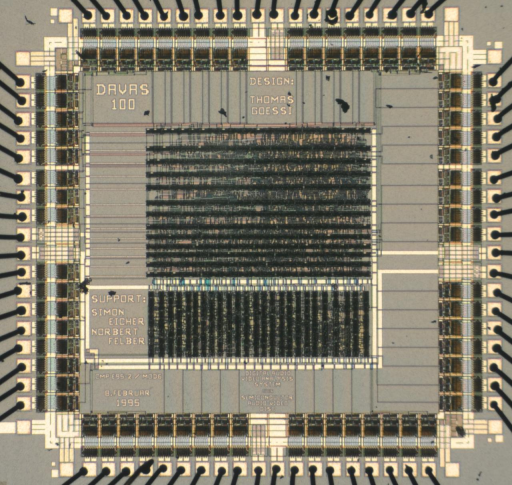 by
---
Main Details
| | |
| --- | --- |
| Application | Industrial |
| Technology | 1200 |
| Manufacturer | VLSI Tech |
| Type | Semester Thesis |
| Package | PGA84 |
| Dimensions | 3870μm x 3750μm |
| Gates | 4 kGE |
| Voltage | 5 V |
| Clock | 100 MHz |
Description
For the precise characterization of electronic systems such a s AD- DA or sample rate converters, it is necessary to apply stimuli and to sample the results with extremely high precision at th required speed. Therefore, a system has been developed which implements such an analysis system with a maximum sampling frequency of 100 MHz.

To reach this high frequency, the DAVAS ASIC has been designed an fabricated, which can be configured as either a digital waveform generator or a digital data acquisition system. I fthe chip is configured as generator, its task is to control the data transfer from fast SRAM memories to the system under test. A total of 256k words consisting of 24 bits each can be addressed. The analyzer part of the ASIC samples the output of the system under test and stores the data in fast memories. In addition, the ASIC manages the data transfer between the SRAM and a workstation via an IEEE-488 interface. The workstation supplies the test data and can be used for characterization of the system under test.

The name DAVAS stands for: Digital Audio Video Analysis System.
Related Publication
No related publications yet