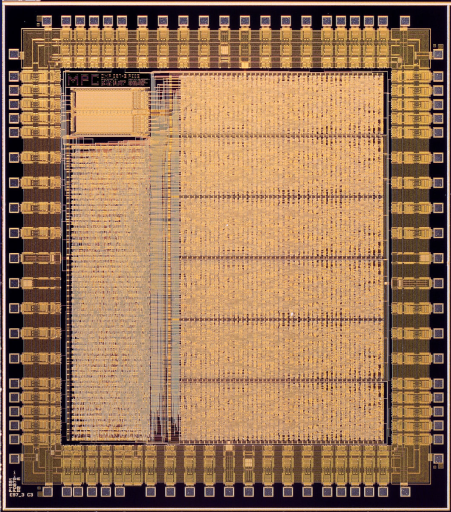 by
---
Main Details
| | |
| --- | --- |
| Application | Industrial |
| Technology | 800 |
| Manufacturer | ES2 |
| Type | Semester Thesis |
| Package | PGA84 |
| Dimensions | 4700μm x 5300μm |
| Gates | 25 kGE |
| Voltage | 5 V |
Description
A prototype high-power IGBT system controller ASIC has been designed in the course of our VLSI student education program. It is a three-phase bridge controller with a microprocessor interface and six bidirectional optical link ports to connect three low-side and three high-side IGBT drivers. A bidirectional communication protocol has been implemented which allows synchronous switching of the IGBTs in a highpriority mode, and, additionally enables low-priority information transfers to and from the switches.

The ASIC generates a three-phase signal with programmable waveform (typically sine), amplitude, frequency and phase. This waveform is converted to switching commands which are transmitted to the IGBTs. Switch status and error conditions are received, handled and sent to the processor.

The ASIC has been successfully tested and it will be integrated into a first prototype system of a microprocessor- controlled DC-to-AC power converter.
Related Publication
No related publications yet