Chipmunk (2016)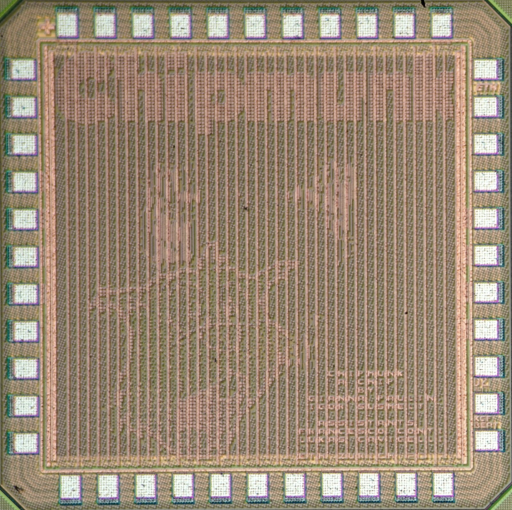 Additional pictures below, click to see larger versions



by
---
Main Details
| | |
| --- | --- |
| Application | Machine-learning |
| Technology | 65 |
| Manufacturer | UMC |
| Type | Semester Thesis |
| Package | QFN40 |
| Dimensions | 1252μm x 1252μm |
| Gates | 600 kGE |
| Voltage | 1.2 V |
| Power | 29.03 mW @ 1.24 V, 168 MHz |
| Clock | 100 MHz |
Description
Long short-term memory networks (LSTM) - a special form of recurrent neural networks - have recently shown great performance in tasks such as speech recognition and language translation. In contrast to feed-forward neural networks recurrent neural networks (RNN) have an internal state. This state enables them to retain memory and build a context around the data. This is especially useful for tasks with sequential data such as speech recognition. Their computations however are not so easy to parallelize on conventional hardware because of the recurrent architecture.

In this work we present Chipmunk which is an implementation of such an LSTM network on a chip. Furthermore, we show that by using a systolic architecture our chip is very easily scalable in both the amount of layer and the amount of hidden units. We evaluated our chip for a grid of 4 chips working together on computing a speech recognition LSTM network with 192 hidden units and 1 layer. The ASIC implementation shows an increase in power efficiency of around 200 compared to a FPGA implementation. This chip could offer embedded and low-power speech recognition on a device such as a smartwatch.

Features

Contains a Long Short-Term Memory Recurrent Neural Network with 96 hidden units
Configurable input/output size
Systolic architecture: Combination of multiple ASICs possible for scaling the RNN up in numbers of hidden units
Measured Performance: 50.4 kSample/s at 168 MHz, 1.24V or 6.0 kSample/s at 20 MHz, 0.75V.

Why call this chip chipmunk? Well Igor and Gianna are really afraid of chipmunks, and during this project they wanted to conquer their fears. Chipmunk is a small rodent that is from the squirrel family. This website has some information on how to distinguish chipmunks from squirrels. However, the website is for North America, and does not deal with Asiatic Striped Squirrel which is another close relative, but once again slightly different in the way they are striped.
Related Publication