Triphos_1.1 (2017)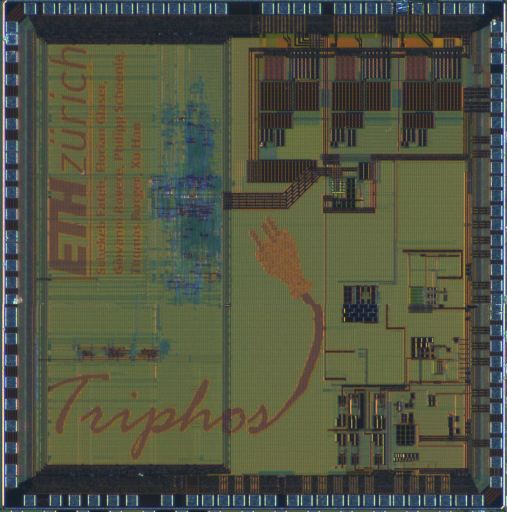 by
---
Main Details
| | |
| --- | --- |
| Application | Biomedical |
| Technology | 130 |
| Manufacturer | SMIC |
| Type | Research |
| Package | BGA169 |
| Dimensions | 3000μm x 4000μm |
| Gates | 500 kGE |
| Voltage | 1.2 V-0.7V |
| Power | 999 mW (@1MHz, 0.1V) |
| Clock | 16 MHz |
Description
Triphos 1.1 is a power management IC for the Vivosoc3 and provides multiple clock frequencies as well as core and I/O voltages by means of DCXO, PLL, XTAL oscillator, multiple LDOs as well as multiple DC-DC converters. Additional features include, power on reset circuit and wake up circuits.

This chip is an updated version of Triphos.

The name is derived from ATP (Adenosine triphosphate) which is the main energy carier in the bloodstream. Vivosoc is related to biomedical applications, and this chip carries the power to this SoC.
Related Publication
No related publications yet