Vivosoc3 (2018)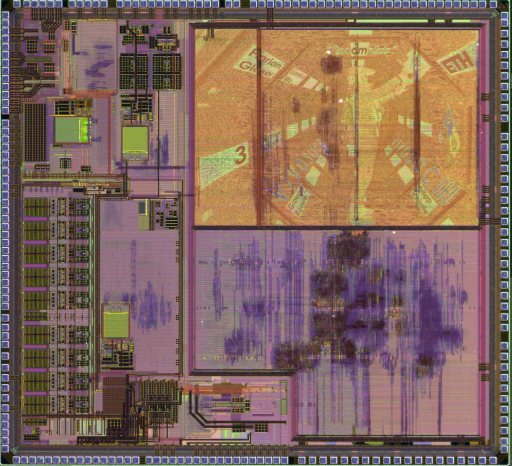 Additional pictures below, click to see larger versions





by
---
Main Details
| | |
| --- | --- |
| Application | Biomedical |
| Technology | 110 |
| Manufacturer | SMIC |
| Type | Research |
| Package | BGA169 |
| Dimensions | 4368μm x 4768μm |
| Gates | 2 MGE |
| Voltage | 1.2 V-0.6V |
| Power | 10 mW (@50MHz, 0.8V) |
| Clock | 100 MHz |
Description
The VivoSoC 3 is the latest cornerstone chip of our envisioned platform for wearable and implantable biomedical telemetry applications, including stimulation, acquisition and processing. This is the 3rd generation of VivoSoC designs Following VivoSoC, VivoSoC 2 and VivoSoC 2.001. To fit the tight energy budgets of portable devices, the operating point of each SoC block can be fine tuned to trade-off unnecessary precision with power.

This current version of the chip includes:

Quad-core RISC-V PULP processing cluster, equipped with shared FPUs, DMA, instruction cache and 32 kB L1 scratchpad memory.
RISC-V fabric controller, optimized for area and power, responsible for system control
Rich set of standard and chip-specific off- and on-chip peripherals, linked through a specialized peripheral DMA
Bootable from wide range of external NAND or NOR flash memories, simultaneously acting as data storage
Advanced on-chip power and clock management, on-chip power switches, retentive L2 memory, all major components reside within independent clock and power domains and can be adaptively duty-cycled
Most major components on-chip power gatable
On-chip clock sources include an ultra-low power reference clock, general-purpose crystal-less FLLs and PLLs and a high-precision DCXO, ready to meet all application demands
9-channel 12kHz / 66dB analog-front-end for time-multiplexed ExG recording with lead-off detection
Multi-channel medical transimpedance amplifier and LED driver for photoplethysmography (PPG) (up to 16 photodiodes, 32 LEDs)
bio-impedance (complex valued) measurement analog-front-end
6 channel nerve stimulation and blocking circuit
On-chip LDOs provide clean supplies for the analog circuits
On-chip bandgap and biasing

The name VivoSoC is based on the Italian word "Vivo" that can be translated as "Alive". The logo continues the trend of Stanley Kubrick's 2001: A Space Odyssey inspired logos on chips where Philipp Schoenle has worked on. The code name Broomhilda of the chip is a reference to the movie Django Unchained, directed by Quentin Tarantino who is -- as everybody knows -- also the director of Pulp Fiction, a reference most PULP family of designs tend to have.
Related Publication
No related publications yet