Hedwig (2022)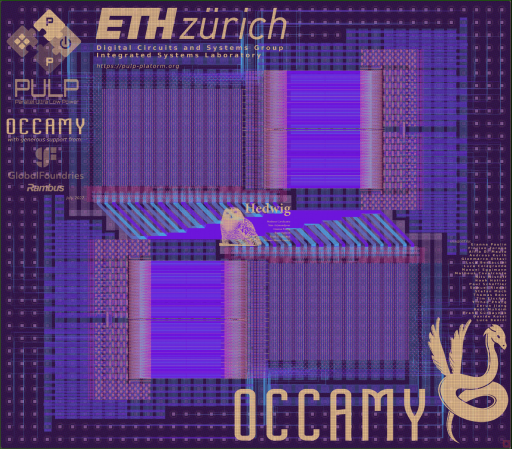 by
---
Main Details
| | |
| --- | --- |
| Application | Pulp |
| Technology | 65 |
| Manufacturer | GF |
| Type | Research |
| Package | BGA1400 |
| Dimensions | 26300μm x 23050μm |
| Voltage | 1.2 V |
| Clock | 1 GHz |
Description
Hedwig is the interposer for the final 2.5D integrated Occamy system and is designed to host two Occamy dies and two 16GB HBM2E dies. It provides high speed connectivity with ground shielding between each Occamy die and their dedicated HBM2E die as well as the connectivity of our custom serial die-to-die link. The interposer has been designed to support 3.2 Gbit/s/pin HBM connectivity as well as providing sufficient current for the entire system. The interposer has only interconnections, no active or passive devices are integrated on the interposer.

The interposer has 40x35 pins arrayed at the bottom and has been designed to be mounted on a PCB directly

This project has been very generously sponsored by Globalfoundries and Rambus and has received support from Synopsys and Micron.

Keeping with the Harry Potter theme, the interposer has been named after the trusted owl of Harry Potter. Logo design by Matheus, Gianna and Zerun.
Related Publication
No related publications yet