DataMan (1993)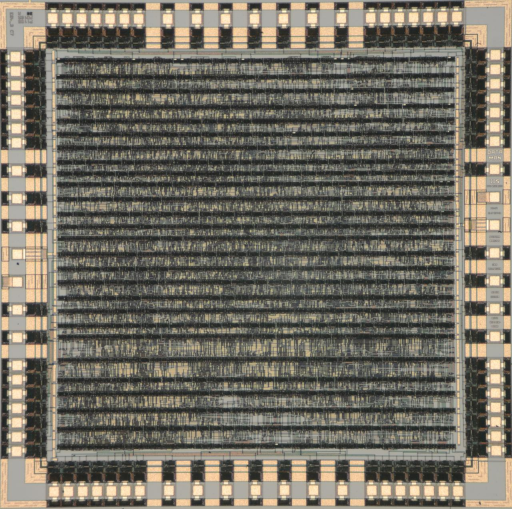 by
---
Main Details
| | |
| --- | --- |
| Application | Industrial |
| Technology | 1200 |
| Manufacturer | VLSI Tech |
| Type | Semester Thesis |
| Package | PGA84 |
| Dimensions | 3200μm x 3200μm |
| Gates | 5 kGE |
| Voltage | 5 V |
| Clock | 10 MHz |
Description
In many environments it is necessary to collect information over long periods of time or observe a stiuation and collect data when special conditions occur. The DataMan chip has been developed for this task, providing decentralized data logging without the need of cabling from a central computer to all acquisition places or placing many expensive data acquisition systems.

The DataMan chip provides five selectable acquisition ports: a Centronics and a RS232 interface, a frequency counter, an event counter, and a Microwire interface for a maximum of 32 analog data channels by controlling four multiplexed A/D converter chips. While the first two ports store all incoming data, the acquisition interval for the other ones can be programmed from 4ms to 256 hours.

The storage port of the chip supports a 128k by 8 bit RAM and optionally a floppy controller interface. The bi-directional RS232 control port allows the configuration of the acquisition modes, reading out the RAM data, flushing the RAM to disk, and floppy formatting in DD and HD format. For battery operation, floppy controller and drive power is switched on only during write operations of the RAM buffer.
Related Publication
No related publications yet