QRInterpol (2006)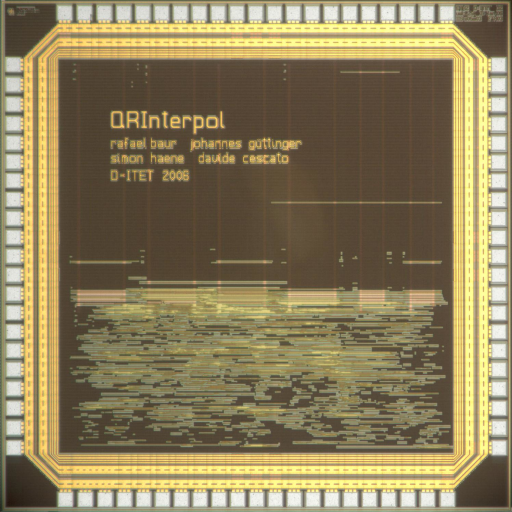 by
---
Main Details
| | |
| --- | --- |
| Application | Communication |
| Technology | 250 |
| Manufacturer | UMC |
| Type | Semester Thesis |
| Package | LCC84 |
| Dimensions | 2500μm x 2500μm |
| Voltage | 2.5 V |
| Clock | 70 MHz |
Description
The extension of orthogonal frequency division multiplexing (OFDM) based multiple-input multiple-output (MIMO) sphere decoding from the narrowband case to wideband systems requires the computation of a QR decomposition for each of the data-carrying OFDM tones. Since the number of data-carrying tones in some standards might be as large as a few thousands, the corresponding computational complexity will in general be huge.

Since the degrees of freedom in the wireless channel, given by the length of the time-domain channel impulse response, are usually much less than the number of channel matrices to be decomposed, interpolation-based methods for efficient QR decomposition in MIMO-OFDM receivers have recently been introduced. An in-depth computational complexity analysis shows that for a sufficiently high number of data-carrying tones and small channel order, a significant complexity reduction can be achieved, compared to brute-force per-tone QR decomposition.

In this project, the VLSI implementation aspects of interpolation- based QR decomposition have been studied. The large dynamic range required for some intermediate results imposes the use of floating-point operations. In addition, the minimization of control overhead and storage requirements represent significant implementation challenges.
Related Publication
Davide Cescato, Moritz Borgmann, Helmut Boelcskei, Jan Hansen, Andreas Burg, "Interpolation-based QR decomposition in MIMO-OFDM systems", Proc. of IEEE Signal Processing Workshop on Signal Processing Advances in Wireless Communications (SPAWC), New York, NY, USA, pp. 945-949, June 2005, DOI: 10.1109/SPAWC.2005.1506279