LazyGonzales (2013)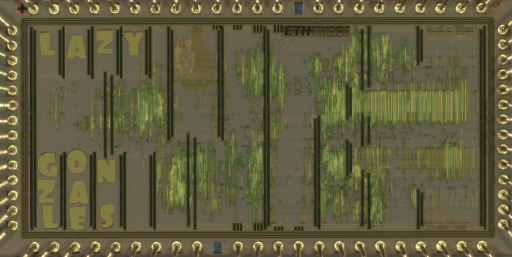 Additional pictures below, click to see larger versions




by
---
Main Details
| | |
| --- | --- |
| Application | Communication |
| Technology | 180 |
| Manufacturer | UMC |
| Type | Semester Thesis |
| Package | QFN56 |
| Dimensions | 3240μm x 1525μm |
| Gates | 200 kGE |
| Voltage | 1.8 V |
| Power | 147 mW, 100MHz 1.8V |
| Clock | 322 MHz |
Description
In this project a turbo decoder employing shuffled decoding with non-aligned half-iterations has been implemented in an ASIC on the basis of the LTE/LTE-Advanced standard. Since LTE-Advanced requires an enormous throughput of up to 3 Gbps and specifies a wide range of code rates and block-sizes of up to 6144 bit, a fully standard-compliant ASIC requires a large silicon area and possibly an advanced CMOS-process. We therefore only realize a proof-of-concept chip containing 2 SISO-decoder cores, which demonstrates the concept of shuffled decoding and proves that it is indeed feasible.

The chip achieved 81.2 MB/s decoding rate during tests

If more units were to be instantiated this architecture could achieve a very high throughput. However, this version is not as fast as it could be. Therefore it is not Speedy but Lazy Gonzales.
Related Publication
No related publications yet