Zweifel (2015)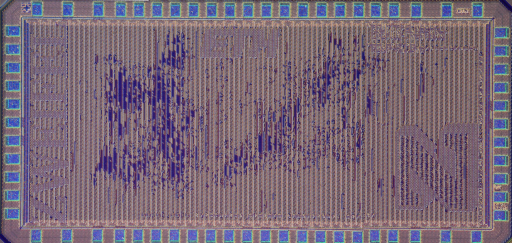 Additional pictures below, click to see larger versions




by
---
Main Details
| | |
| --- | --- |
| Application | Cryptography |
| Technology | 65 |
| Manufacturer | UMC |
| Type | Semester Thesis |
| Package | QFN56 |
| Dimensions | 2626μm x 1252μm |
| Gates | 10 |
| Voltage | 1.2 V |
| Power | 999 mW @ 1.2 V, 325 MHz |
| Clock | 1 MHz |
Description
This chip implements some of the authenticated encryption with associated data (AEAD) algorithms that were submitted as part of the Caesar Candidates, similar to Pony. The algorithms implemented are:

Ascon
Minalpher
Joltik
SCREAM

All the candidates have been designed to reach a throughput of 100 Gbps while consuming as less area as possible. To test the individual implementation an On-Chip RAM can be fed with random test vectors. Alternatively a LFSR gives the possibility to rapidly generate stimulis (e.g. for power measurement).

Zweifel is a popular Swiss company that is famous for its potato chips. The name of the chip is a pun on the obvious relation between technical chips and the edible chips. On the other hand it plays with the trustworthiness of cryptography and the need of it in general as "Zweifel" is a German word that translates to "doubt".
Related Publication
No related publications yet