StoneEDGE_C1 (2016)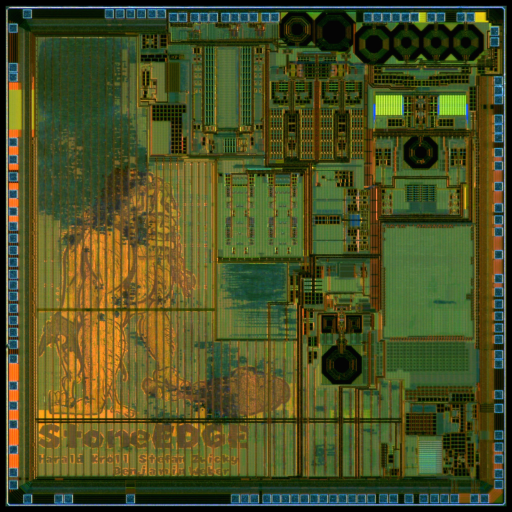 by
---
Main Details
| | |
| --- | --- |
| Application | Communication |
| Technology | 130 |
| Manufacturer | SMIC |
| Type | Research |
| Package | BGA-121 |
| Dimensions | 3700.00μm x 3700.00μm |
| Voltage | 2.8/3.8 V, 1.2V on chip V |
| Clock | 26/89 MHz |
Description
This revision of the stoneEDGE series improves its predecessor stoneEDGE_revB1 with cellular IoT support. All EC-GSM-IoT physical layer functions are implemented into a single chip leading to a sensitivity of -121.7 dBm. Furthermore, transceiver functionality (RF to digital baseband and vice versa) for LTE Cat-M1 (eMTC) and LTE Cat-NB1 (NB-IoT) are supported as well.

The logo on the chip is copyright by Anton Brand and has been used with his permission.

The chip's name stoneEDGE is based on an analogy between the 2G cellular standard enhancement EDGE and a tool from the prehistoric period Stone Age such as an Acheulean. Both are very old yet durable and useful today. This chip is the third iteration of an earlier version, hence the name C1.
Related Publication