Cerberus (2022)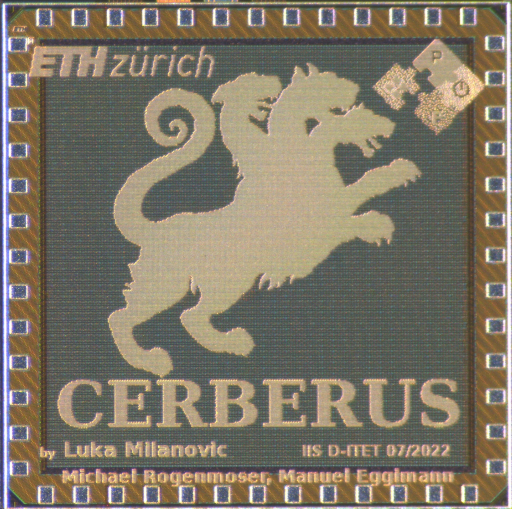 Additional pictures below, click to see larger versions



by
---
Main Details
| | |
| --- | --- |
| Application | Pulp |
| Technology | 65 |
| Manufacturer | TSMC |
| Type | Research |
| Package | QFN40 |
| Dimensions | 2000μm x 2000μm |
| Gates | 1 |
| Voltage | 1.2 V |
| Power | 8.6 mW @1 MHz |
| Clock | 200 MHz |
Description
Cerberus is a radiation tolerant PULPissimo system. It implements triple core lock-step of the processing cores and error correcting codes for the memory banks. These protection measures allow for detection and correction of a single faulty core and single error correction, double error detection for memory errors.

The chip was named after Cerberus, the three-headed hound that guards the gates of the underworld in Greek mythology.

See also Trikarenos.
Related Publication
No related publications yet