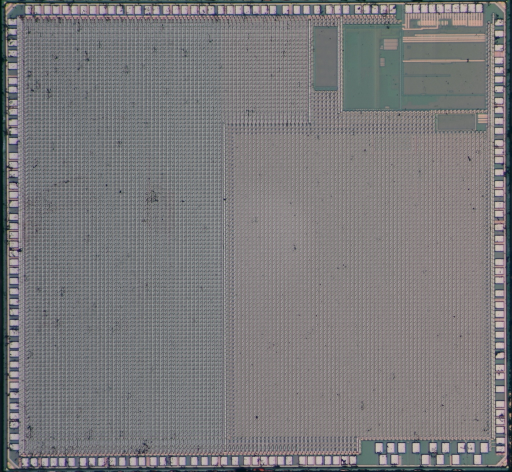 by
---
Main Details
| | |
| --- | --- |
| Application | Pulp |
| Technology | 55 |
| Manufacturer | TSMC |
| Type | Industrial |
| Package | QFN88 |
| Dimensions | 3200μm x 3200μm |
| Gates | 2 MGE |
| Voltage | 0.8-1.2 V |
| Power | 75 mW @ 1.2 V, 250 MHz |
| Clock | 250 MHz |
Description
GAP8 is a commercial IoT processor designed by Greenwaves Technologies, based on the open source PULP platform. It is quite similar in its design to Mr. Wolf with the following differences

GAP8 is an industrial design and is available as a product.
GAP8 is in TSMC55, Mr.Wolf is TSMC40.
In GAP8 the processor core outside the cluster is a RI5CY, in Mr. Wolf it is a Zeroriscy.
GAP8 does not FP support
There are additional accelerators in GAP8

GAP8 is a fully programmable RISC-V IoT-edge computing engine, featuring a 8-core cluster with CNN accelerator, coupled with an ultra-low power MCU with 30 uW state-retentive sleep power. GAP-8 delivers up to 10 GMAC/s for CNN inference (90 MHz, 1.0V) at the energy efficiency of 600 GMAC/s/W within a worst-case power envelope of 75 mW.
Related Publication
Eric Flamand, Davide Rossi, Francesco Conti, Igor Loi, Antonio Pullini, Florent Rotenberg, Luca Benini, "GAP-8: A RISC-V SoC for AI at the Edge of the IoT", In Proc. IEEE 29th International Conference on Application-specific Systems, Architectures and Processors (ASAP), Milan, Italy, 2018, pp. 1-4,European Solid State Circuits Conference (ESSCIRC) 2018, 3-6 Sep 2018, Dresden, DOI: 10.1109/ASAP.2018.8445101