Times_ADPLL_v2a (2019)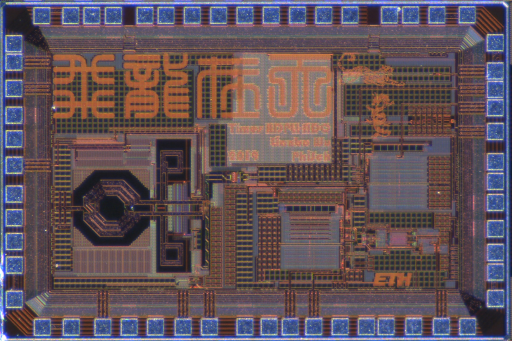 by
---
Main Details
| | |
| --- | --- |
| Application | Communication |
| Technology | 130 |
| Manufacturer | SMIC |
| Type | Research |
| Package | QFN32 |
| Dimensions | 1895μm x 1250μm |
| Voltage | 1.2 V |
| Power | < 5/8 mW (@40/80MHz, 1.2V) |
| Clock | in:40 MHz out:3 GHz |
Description
A 3GHz, sub-200 fs_rms -jitter fractional-N DPLL with a fully differential voltage sampling phase detector is implemented, which resolves the fractional phase error with the help of high performance data converters in voltage domain. Implemented in 130nm CMOS the circuit consumes 5+mW reaching an state-of-the-art FOM. Version a and b denote the differences in the feedback loop implementation.

The logo on the chip is in ancient seal style Chinese font of (dragon flying on the sky). This word comes from the famous book originates concept of Yin-yang the book of Changes which was written 3000+ years ago. The word is from the Nine in the 5th place which literally means:

Dragon flying in sky = realizing target

This alludes to the fact that this chip is a more matured version of TimesADPLL, whose logo came from the Nine in the 3rd place.
Related Publication
Lianbo Wu, Thomas Burger, Philipp Schoenle, Qiuting Huang, "A Power-Efficient Fractional-N DPLL With Phase Error Quantized in Fully Differential-Voltage Domain", IEEE Journal of Solid-State Circuits, vol. 56, no. 4, pp. 1254-1264, April 2021, DOI: 10.1109/JSSC.2020.3047431